'Breaking Bad' premiere explores the nature of power
(Read article summary)
'Breaking Bad' teases the direction of the upcoming fifth season in its premiere.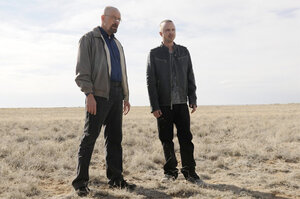 Ursula Coyote/AMC/AP
Many of the best stories can be defined by the power of their conclusions. In ending, they tell us something definitive about the characters that we have invested so much of our time on. These stories attempt to validate our investment by cashing out in some memorable fashion, which will allow them to reverberate and be retold countless times. Even though (after tonight) we're still 15 hours away from any such conclusion with Walter White, there's still a tangible feeling of imminent completion surrounding the season premiere of Breaking Bad.
Creator Vince Gilligan – who also wrote the premiere – gets the games going early by utilizing a familiar break in chronology as a means to set up the episode. This was previously used to great effect with black and white glimpses of a stuffed animal floating in a pool. Only after we had all the information did the pieces fit together. Revealing the mangled toy to be from a catastrophic aviation accident tangentially tied to Walt (Bryan Cranston) and his handling of Jesse Pinkman (Aaron Paul) and his new drug-addled girlfriend. The effect was engrossing on its own, but also served as a payoff for those who had tuned in week after week to watch Walt's downward spiral.
Now, ushering in season 5, Gilligan offers us a glimpse of what we can only assume is nearly the end of the road. 'Live Free or Die' revels in offering just enough illumination on the mysterious circumstances to spark what will certainly be countless theories leading to the how and why. An unshorn Walt, complete with beard and thick-rimmed glasses, sits alone in a Denny's restaurant, playing with his food by arranging pieces of bacon into the shape of a fifty-two – the age he has turned on this day. He's there to meet up with Lawson (Jim Beaver, Supernatural), the weapons dealer, and purchase a rather large machine gun nestled in the trunk of a car, which Lawson also provided.
---