'The Dark Knight Rises' early reviews arrive
(Read article summary)
As Warner Bros. lifts its review embargo, online reviews of the hotly anticipated Batman finale start rolling in.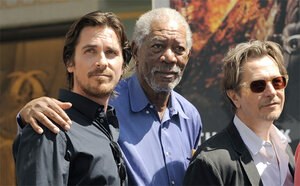 Chris Pizzello/Invision/AP
Warner Bros. has lifted the review embargo for The Dark Knight Rises, opening the floodgates for critics from around the movie blogosphere to weigh in with their thoughts about Christopher Nolan's climactic chapter to his grisly Caped Crusader trilogy. The film is as critic-proof as they come, yet the question lingers: Is it the crown jewel in a popular blockbuster franchise, which has been lauded as much for technical achievements as for storytelling merits (Toy Story 3)? Or does it buckle under the weight of bloated expectations, as has happened with many a trilogy finale in the past (The Godfather: Part III, Spider-Man 3)?
Scroll on down to read some SPOILER-FREE samples culled from some the first Dark Knight Rises reviews to hit the Web, and see what you think (check in later this week for Screen Rant's official review of the film).
From Variety:
Few blockbusters have borne so heavy a burden of audience expectation as Christopher Nolan's final Batman caper, and the filmmaker steps up to the occasion with a cataclysmic vision of Gotham City under siege in "The Dark Knight Rises." Running an exhilarating, exhausting 164 minutes, Nolan's trilogy-capping epic sends Batman to a literal pit of despair, restoring him to the core of a legend that questions, and powerfully affirms, the need for heroism in a fallen world. If it never quite matches the brilliance of 2008′s "The Dark Knight," this hugely ambitious action-drama nonetheless retains the moral urgency and serious-minded pulp instincts that have made the Warners franchise a beacon of integrity in an increasingly comicbook-driven Hollywood universe.
---