'The Hobbit': High frame rate showings will be limited
(Read article summary)
'The Hobbit' director Peter Jackson originally planned for movie to be shown at a higher frame rate, but the film will now be seen at a normal rate in most theaters.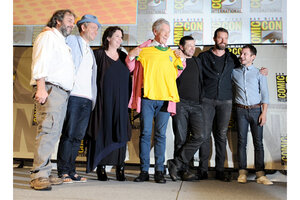 Jordan Strauss/Invision/AP
For those who are not well-versed in the vocabulary of film technology: Peter Jackson's upcoming adaptation of The Hobbit (which is now, officially, a trilogy) has garnered some early controversy, due to Jackson's decision to film at 48 frames-per-second – or double the rate of standard films, which typically run at 24 fps. The higher frame rate is supposed to make a movie look more "realistic," by smoothing out motion and cleaning up images, so that events onscreen seem to look and move more in the vein of how the eye perceives real life.
With The Hobbit showing in both 48 fps and 3D, there has been much interest in Jackson potentially ushering in a new era of film tech; however, early screenings of The Hobbit received more negative press than Warner Bros. would have liked. As such, the studio is limiting the number of locations that will show the film in 48 fps.
Variety has the exclusive news that WB is going to release The Hobbit high frame rate (HFR) theatrical cuts only in select locations – and not necessarily nationwide. One might assume that this move comes under the weight of continued bad press – but to the contrary, Variety's sources claim that more recent screenings of the film in 48 fps have yielded much more positive results, now that Jackson has had a chance to add some post-production polish. The limited release is therefore rationalized as a prudent step to test the market for HFR movies, while still ensuring that viewers will be satisfied with their Hobbit experience, by offering a wide release at the safe and familiar normal frame rate.
---