Bruce Willis in 'The Expendables 2' rules the box office
(Read article summary)
'The Expendables 2' and 'The Bourne Legacy' could have legs at the box office over the coming weeks.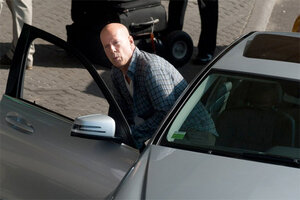 Bea Kallos/MTI/AP
The Expendables 2 will top the box office over the weekend, grossing an estimated $28.7 million. The original action mash-up grossed scored $34 million in 2010 and topped out at $103 million domestic and $274 million globally. However, this new effort has better reviews (read ours) and even more star fire-power, so it could potentially do better in the long-run – or at the very least at the global box office.
The film does beat the average opening weekend of most of its stars. An average Stallone movie debuts to around $12 million and a Statham vehicle usually launches to just over $10 million. Bruce Willis usually garners about $13 million worth of audience interest, while the average weekend gross for a Schwarzenegger movie is $15 million. Having said that, most of these films opened in a time when ticket prices were much lower.
Fellow action sequel, The Bourne Legacy dropped to second place, it should bank $17 million for the weekend, raising its cume to $69.5 million. It looks like there's life in this Matt Damon-free franchise yet, in fact you could say it has been re-Bourne (zing!). Sure, it hasn't managed to hit the grosses of the Damon movies, but it is difficult rebooting a franchise without its original star AND its original character.
---