Neil Gaiman returns to 'Doctor Who'
(Read article summary)
Neil Gaiman's episode is scheduled to air in 2013 during the second half of the seventh season.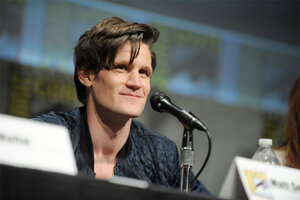 Jordan Strauss/Invision/AP
The Doctor Who season seven premiere, "Asylum of the Daleks," elicited a mixed response from some fans and critics (read our Doctor Who season seven premiere review) – with a few of story beats that were off-putting for certain longtime viewers. However, many Whovians still enjoyed the episode and are eagerly looking forward to the remaining season seven chapters.
As we mentioned in our recent Doctor Who Viewing Guide feature, it's a great time to get started with the series – especially considering executive producer Steven Moffat has promised that this season will be the biggest and most exciting installment in the near-50 year old show. To that point, we've got a number of intriguing season seven details – including the return of celebrated comic book writer, novelist, and screenwriter, Neil Gaiman, as well as several new new images and a trailer for the highly-anticipated "Dinosaurs on a Spaceship" episode.
Gaiman is well known for a myriad of reasons – including The Sandman comic book series, Stardust and Coraline novels (later adapted into feature films by directors Matthew Vaughn and Henry Selick, respectively), as well as one of the most memorable episodes in Doctor Who history, "The Doctor's Wife" (originally titled "The House of Nothing") – which, paired with intriguing standalone plot points, provides canon backstory for The Doctor's TARDIS (a time machine/spacecraft).
---