'Avatar' prequel will come after 'Avatar 2' and '3,' says James Cameron
(Read article summary)
An 'Avatar' prequel would be the fourth in the film series, according to director James Cameron. But Cameron says he's not working on the Avatar prequel yet.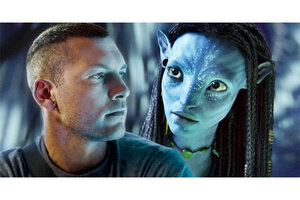 Reuters
Sigourney Weaver mades waves when she announced that James Cameron plans to shoot three Avatar sequels as a single massive undertaking. However, producer Jon Landau recently clarified that the Avatar 4 will be filmed separate from its peers (assuming it is made at all).
Cameron has since revealed that a fourth Avatar movie (again, should it happen) would take on the form of a prequel to his original box office record-obliterating 3D sci-fi epic. Meanwhile, Landau's playing down speculation that Cameron intends to spend the rest of his days making Avatar films – by suggesting that Cameron's long-awaited Battle Angel/Battle Angel Alita adaptation will finally come to fruition once the Avatar trilogy has been finished.
MTV picked up the above-mentioned Avatar 4 tidbit during an interview with Cameron, who reiterated that he's only working on the scripts for Avatar 2 and 3 at the moment. Cameron admitted he's penning the sequel screenplays as "one big thing"; however, he has also mentioned in the past that new Avatar movies help to complete a three-part story arc set in motion by the original installment – focusing on the further adventures of Jake Sully (Sam Worthington) on Pandora, now that his consciousness has been permanently "locked down" into his Na'Vi avatar.
The filmmaker had the following to say, about a prospective Avatar prequel (ie. Avatar 4):
"I haven't really put pen to paper on it, but basically it goes back to the early expeditions of Pandora, and kind of what went wrong with the humans and the Na'vi and what that was like to be an explorer and living in that world. Because when we drop in, even in the first film in 'Avatar 1,' as it will be known in the future, we're dropping into a process that's 35 years in to a whole colonization."
---