Former Olympics physician's radical principle is examined in documentary
(Read article summary)
'The Wave Maker' follows medical maverick Dr. Irving Dardik and his SuperWave principle.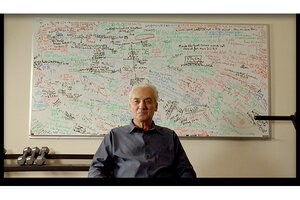 Double Eye Productions
An Indiegogo funding campaign is entering its final days to start post-production of filmmaker Kiira Benzing's THE WAVE MAKER, a feature documentary about medical maverick and former Olympics physician Dr. Irving Dardik's quest to assert a paradigm shift in our understanding of the universe and of our own bodies – by making waves. Dardik's radical SuperWave Principle, wherein the world is made up of "waves waving within waves," is an alternative to mainstream science and medicine currently being applied to health, cold fusion and clean energy. THE WAVE MAKER follows Dardik as he battles to convince people that his SuperWave Principle is the Theory of Everything.
TFPN: When did you first learn of Dr. Dardik, and how did you come to the conclusion there was a story to tell here and why in the form of a documentary?
Benzing: I met Dr. Irving Dardik in 2006 through my father who is also an athlete. In addition to his medical career, Dardik was a world-class sprinter. From the moment I met him I knew there was a story to tell, but at the time I was studying theater, that was really my world. At first I kept picturing Dardik and his story on a stage. Dardik is larger than life and has the kind of charisma that lights up a movie screen. I knew all along that his life story and his unique concept of the universe needed to be brought to the screen, but I had to finish college before I could set out to dedicate my life to making a feature documentary film about a person with a huge life story and one who also happens to have an idea so enormous as a new theory of nature and the universe.
---