Ellen DeGeneres in 'Finding Nemo 3D': Is it worth seeing in its new format?
(Read article summary)
Ellen DeGeneres' 'Finding Nemo' gets a 3D re-release – is it worth the ticket price?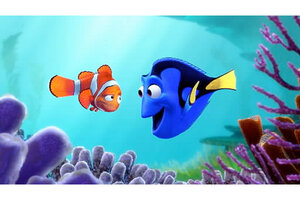 Reuters
Three years before Disney officially purchased Pixar Studios, the animation house released one of their most beloved and critically lauded films to date. Finding Nemo opened May 30, 2003 and delivered over $800 million in worldwide ticket sales – on a $94 million budget. Since that time, the film has become a fan-favorite home entertainment choice for families and animation fans – not to mention positioned characters like Nemo, Marlin, and Dory as long-term merchandising platforms.
Now that 3D has managed to take hold both at the box office and home theaters, Disney has been digging in the Pixar archives and rereleasing certain films with new 3D visuals – including Toy Story, Toy Story 2, and soon Monsters Inc. Given the critical and commercial success of the film, there's no debating that the Finding Nemo story is a must see for movie fans. However, with ten years of availability on DVD (and now Blu-ray), does Finding Nemo 3D, coupled with Mark Walsh's Toy Story short, Partysaurus Rex, offer enough payoff to make it worth another viewing - this time in 3D?
NOTE: As with previous 3D rerelease reviews, the purpose of our Finding Nemo 3D review is to help our readers make an informed decision about the 3D rerelease, not spend time revisiting any overarching problems that might have been evident in the original movie – since readers are likely well acquainted with the quality and overwhelmingly positive critical reception of the 2003 film. In a time when movie studios are quick to shove unnecessary post-conversion rereleases into theaters, moviegoers need to know which movies have enjoyed a rigorous as well as artistic 3D treatment and which ones are simply revisited for the purpose of studio double-dipping – made even more enticing by 3D upcharges and eventual 3D blu-ray sales.
---