'Looper': The ending explained
(Read article summary)
'Looper' has a lot of sci-fi twists. Here's a walk-through of how the time travel in the film worked.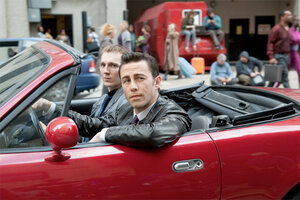 Alan Markfield/Sony Pictures Entertainment/AP
Rian Johnson created quite the sci-fi story with Looper (read our review), and like a lot of good sci-fi stories, there's plenty left to chew on after the end credits roll. Some people may be confused about the ending of Looper, others about the general premise of the story – while more hardcore sci-fi fans are undoubtedly deep into discussing, charting or perhaps even working on infographics that explain the many time travel logistics (and paradoxes) that must be untangled.
To aid in comprehension and discussion, we've created a quick easy-to-read breakdown of Looper is all about. It's only our analysis, and film is always open to wide interpretation – and like good cinema should do, we have a feeling Looper will keep people talking and thinking for a while. Read on for our explanation of Looper's premise, story – and yes, those bothersome time travel paradoxes.
The Premise
In Kansas of 2074, a mob syndicate utilizes a kill system whereby they send victims back in time to Kansas 2044 to be eliminated by hitmen called "loopers," who are trained and instructed by a future mobster (Jeff Daniels). The anonymous victims pop back in time hooded and gagged and are promptly shot by the waiting hitman, who then disposes of the body and collects bars of silver strapped to the victim's back as payment. This goes on until the day a looper finds gold strapped to his victim's back instead of silver, signifying that the anonymous victim is actually the looper himself – or at least who he will be in 30 years. This is known as "closing a loop"; the looper promptly retires and is free to live a life of luxury for those 30 years- until he will be captured and sent back to the predetermined moment when his younger self kills him.
---