'Vampire Diaries' premiere: Executive producer previews season 4
(Read article summary)
The 'Vampire Diaries' premiere raised a lot of questions about the future of protagonist Elena and her friends and love interests. Executive producer Julie Plec previews what's coming up on the show.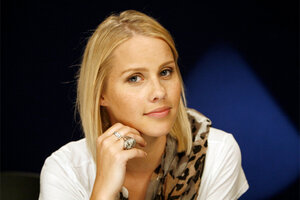 John Carucci/AP
Looks like the supernatural baddies of Mystic Falls won't have Elena to push around anymore… or at least, doing so won't be so easy now that she's a bloodsucker! With that shocker, THE VAMPIRE DIARIES took things to a whole new level. So what happens next? Let's ask executive producer Julie Plec!
So has having Elena become a vamp been in the cards all along?
JULIE PLEC: It was three years in the making, in that we knew when we started the series that we'd get there eventually. At one point, we thought we wouldn't get there until Season 5, and then at one point contemplated getting there by the end of Season 2! We began Season 3 knowing how we were going to end it, so all the choices we made and everything that we did was all trying to very gently and quietly tee that up and put Elena in a situation where that was the biggest move that could happen in her life.
Is moving forward terrifying, given what a game changer this is?
PLEC: It's exciting, because it's fresh, you know? It gets us jazzed every day, because we don't feel like we're just retreading the same old stuff. It's daunting, because we think it's awesome, but if nobody else likes it, there is nothing we can do. We have put the show on this course, and there's no going back. So if it gets rejected, then we're going to have to take a beat and think about what we've done. That said, I think people will like it, because it's still Elena. It's just Elena with a dozen, two dozen more layers to herself.
You've thrown everything but the kitchen sink at Nina Dobrev (Elena). How is she handling playing yet another version of the same character?
PLEC: Nina is nothing if not a total champion, and she loves to be challenged as an actress. So far, so good! She's finding all the nuances in the character that are different than Katherine and different than the human Elena. A lot of actors during Season 4 of a TV series don't necessarily get to wake up and be somebody new, so I think she's very excited about that.
---