'Paranormal Activity 4': Is the movie worth seeing this Halloween?
(Read article summary)
'Paranormal Activity 4' is the newest installment in the found-footage franchise. Is it a satisfyingly scary story for Halloween?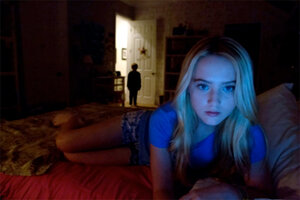 Paramount Pictures/AP
Back in 2009, Screen Rant's Kofi Outlaw caught a preview showing of the indie-produced found-footage film Paranormal Activity – during director Oren Peli's campaign to have viewers "demand" film screenings in their area. Positive word of mouth eventually carried the film into a wide release and on to $193 million dollars (from a $15,000 budget). Since that time, the Paranormal Activity sequels have become standard Halloween season programming at the box office and with low-cost productions and massive ticket revenue, the films now rank as some of the most profitable movies ever made.
Now the producers are back with Paranormal Activity 4, re-teaming with their Paranormal Activity 3 directors, Henry Joost and Ariel Schulman (Catfish). Despite some memorable scares, Paranormal Activity 3 was criticized for the way it handled the larger (albeit thin) franchise "story." Can Joost and Schulman find a better balance this round – a film that delivers both creative scares and advances the Paranormal Activity mythos?
There's no doubt that the filmmakers faced a tough challenge, given the series' thin premise but nearly every element of the franchise has been watered down in part 4. The movie delivers a number of tense moments but only a few of them pay off with memorable scares. Additionally, the story, which takes place years after the events of Paranormal Activity 1 and 2, further muddles the larger franchise mythos (creating significantly more questions than answers) and, like plenty of found footage films before it, fails to deliver a fulfilling conclusion. Some viewers will defend the film for being satisfyingly spooky but, compared to the prior entries, Paranormal Activity 4 is by far the least compelling.
---