'The Hobbit: An Unexpected Journey': Actor Benedict Cumberbatch reveals new plot details
(Read article summary)
The plots of 'The Hobbit: An Unexpected Journey' and its two sequels have been shrouded in mystery, but Cumberbatch hints in an interview at where 'The Hobbit: An Unexpected Journey' will end and where the next film will pick up.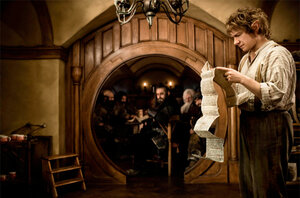 James Fisher/Warner Bros./AP
For those (isolated pockets of people) not overly familiar with the world of author J.R.R. Tolkien – who only know his name in association with the Lord of the Rings movie trilogy – then director Peter Jackson's upcoming prequel trilogy, The Hobbit, will be something of a mystery. In short explanation, The Hobbit chronicles the adventures of Bilbo Baggins – the elderly uncle of Frodo Baggins in Lord of the Rings - and the epic adventure which he embarked upon that would, in part, alter the fate of Middle-Earth, and inspire Frodo's mission to destroy the evil ring of Sauron.
In The Hobbit, however, the evil foe is not Sauron, but rather Smaug, an evil and ancient dragon who lays claim to the treasure-filled mountain of Erebor (aka, the Lonely Mountain). With The Hobbit being split into a trilogy of films, fans have long questioned just how much Smaug we will get in each installment. Today we have an answer to that question.
WARNING!!! HOBBIT SPOILERS FOLLOW!!!
Sherlock (BBC) star Benedict Cumberbatch is poised for a big (bad) Hollywood breakout: He will be playing the villain in Star Trek 2 and will also provide the voice of Smaug in The Hobbit. (Fans also want to see him play a comic book movie character – such as Marvel's Ant-Man in the upcoming film from Edgar Wright.)
While doing an interview with Anne Richardson, Cumberbatch dropped a somewhat considerable spoiler about when and where we might be seeing Smaug show up in The Hobbit trilogy.
Final chance if you want to AVOID THE SPOILER!!!
-
-
-
As quoted from Richardson's interview, via Cumberbatchweb:
I think my eye might open at the end of the first film and then you'll get the rest of me in the second.
WARNING!!! HOBBIT STORY SPOILERS FOLLOW!!!
---