'Star Wars: Episode 7': Harrison Ford open to returning for a new film, sources say
(Read article summary)
Unnamed sources are saying 'Star Wars' actor Harrison Ford is 'open to the idea of doing the movie.'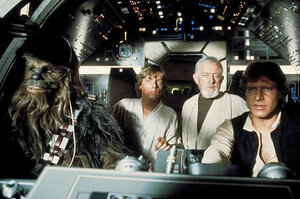 Lucasfilm Ltd./Business Wire
Last week, there was a great disturbance in the force, as if millions of nerds cried out and were suddenly silenced. Okay, maybe it wasn't that dramatic, but it was a pretty big deal when Disney bought Lucasfilm and announced plans for a new series of Star Wars sequels.
Since then, we've debated the pros and cons of the news, and have also reported on all of the speculation about Star Wars: Episode 7, including today's rumor that X-Men: First Class director Matthew Vaughn is in the running to direct the film.
Now, we've got another interesting piece of news to share. According to an exclusive report from Geoff Boucher (who has happily landed on his feet at Entertainment Weekly after leaving his gig at the L.A. Times), none other than Han Solo himself has allegedly expressed interest in returning to a galaxy far, far away.
The report quotes sources close to Harrison Ford who say that the iconic actor is "open to the idea of doing the movie" and, moreover, is "upbeat about it." Obviously, being "open" to doing the movie is a long stretch from actually doing it, and it's not like the 70-year-old actor is getting any younger. However, if he's genuinely interested in returning to one of his most famous roles, it can only be a good thing for Star Wars fans.
---