'Once Upon a Time': Here's how to fix it
(Read article summary)
'Once Upon a Time' had record low ratings on Sunday night, meaning some audience members may be jumping ship. Here are some ways the show can get back to its first-season magic.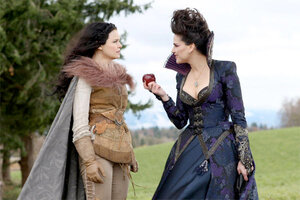 Jack Rowand/ABC/AP
If Sunday's record low ratings are any indication, we're not the only TV addict who thinks ONCE UPON A TIME may have lost a little magic over the course of the first half of its seconcd season. And while we're not prepared to jump off the bandwagon by any stretch just yet [Editor's Note: We're still watching HOW I MET YOUR MOTHER!], we did think now might be as good a time as any too offer up five suggestion that co-creators Adam Horowitz and Edward Kitsis might wish to consider moving forward.
1. Shrink Storybrooke
WIth serious apologies in advance to the hard-working and honest townspeople of Storybrooke, who let's face it, haven't had the greatest string of luck these past twenty-eight years being cursed and all, ONCE UPON A TIME's most pressing problem is one of over-population. A problem that plagues many sophomore shows when showrunners inexplicably decide to introduce a slew of entirely new characters in an attempt to conjure up drama at the expense of some much-needed screen time for the original ones that fans have come to know and love.
2. Simplify the number of story lines
The second most pressing issue plaguing ONCE UPON AT IME this season are the sheer number of simultaneous story lines. Take Sunday's episode for example. Between Red/Ruby's two predicaments, David juggling his continued effort to rescue his wife and daughter while at the same time having to defend his position against an angry mob of townspeople riled up by Spencer (aka King George) and Henry/Princess Aurora's concurrent nightmares, we counted no fewer than six plots being mixed into forty-four minutes of show. Which, in case you're wondering, is a lot to keep track of while our brain attempts to reconcile the fact that Sunday marks the end of a wonderful weekend and the start of a very busy work week.
---