Elizabeth Banks joins a superhero movie with... Legos?
(Read article summary)
Elizabeth Banks is rumored to have signed on for a movie that has Batman and Superman, but in an unexpected format. Banks starred this spring in 'The Hunger Games.'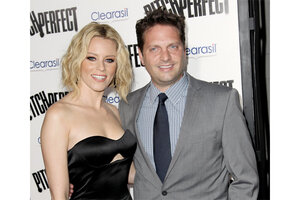 Matt Sayles/Invision/AP
Lego, at first, sounds like a blatant Hollywood cash-grab aimed at nostalgic adults and a younger generation who may want to purchase said toys after (or even before) seeing the movie. Similar to the developing Stretch Armstrong, the playthings behind Lego lack even the semblance of a narrative, much less a pre-established mythology (unlike Transformers).
So how then did Lego attract the interest of Dan and Kevin Hageman? After all, that pair devised the story for next month's Hotel Transylvania, a 3D animated project that allowed the writers' collective imagination to run wild concocting a tale involving iconic monsters. Well, switch out "iconic monsters" for "Lego toys" and the previous description fits the Lego movie equally well, oddly enough.
Warner Bros. is behind Lego and previous reports indicated that studio heads are taking advantage of ties to DC Comics, so as to allow for Lego-ized versions of superheroes in the film. Hence, it's been confirmed that Arrested Development star Will Arnett is voicing the Batman Lego in said movie, while the search continues for a viable candidate to lend their vocals to a Lego Superman (Channing Tatum is rumored to still be the top choice).
---