'Breaking Dawn – Part 2': Is the movie a satisfying finale?
(Read article summary)
Will 'The Twilight Saga: Breaking Dawn – Part 2' appease diehard fans? Check out our full review.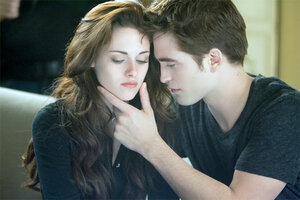 Andrew Cooper/Summit Entertainment/AP
The final Twilight saga chapter, Breaking Dawn – Part 2, was always expected to face an uphill battle with anyone but diehard fans of Stephenie Meyer's supernatural romance series. Despite blockbuster box office returns, Breaking Dawn – Part 1 was met with largely negative reviews and the sense that splitting the final Twilight book into two parts arguably proved to be a disservice to the quality of the film adaptation – even if it doubled-up profits for Summit Entertainment.
It goes without saying that moviegoers who are simply uninterested or cynical about the Twilight franchise will not enjoy Breaking Dawn – Part 2 – as the film still contains the usual series staples (shirtless Taylor Lautner, glittering vampires, melodramatic romance, etc). However, does the final entry, once again directed by Bill Condon (Dreamgirls), ultimately deliver a filmgoing experience worthy of recommendation to cautiously curious fans of entertaining cinema – in addition to the already strong Twilight series faithful?
---