'Game of Thrones': Season 3 premiere date and latest casting news
(Read article summary)
'Game of Thrones': When is it coming back for a third season and who are the latest actors (and musicians) to sign on for appearances?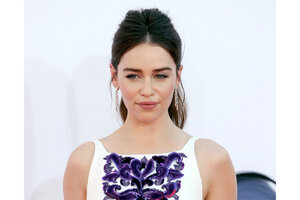 Matt Sayles/Invision/AP
The long wait for the return of Game of Thrones is almost over. This week HBO finally revealed the Game of Thrones season 3 premiere date in poster form, setting the highly anticipated return to Westeros for March 31, 2013.
The poster (see below), which is as basic as they come, simply states the date 03.31.13. If a more colorful poster is what you're after, you'll have to keep an eye out for HBO's familiar release of teaser posters, character posters and season posters in the coming weeks (and months).
When Game of Thrones returns next year for season 3, there will be a few additions to the cast, hinting at what potential storylines await fans. The most notable addition is that of Mackenzie Crook as Orell, a wildling and "skinchanger." Cook's character comes from the source novels, but will likely be combined with the story of a similar character, Varamyr Sixskins, for the TV series, making the character of Orell much stronger than he originally was (as well as giving him abilities).
In addition to Orell, King Joffrey Baratheon will also be receiving some new guests in season 3, now that Diana Rigg has been cast as Olenna Tyrell, grandmother to Joffrey's fiance, Margaery Tyrell. Lady Olenna, nicknamed the "Queen of Thrones," isn't fond of playing simple games (or being around simple minds), so it'll be interesting to see how she gets along with everyone's favorite evil boy King.
---