'Breaking Dawn – Part 2': Why that twist ending is a good thing
(Read article summary)
'The Twilight Saga: Breaking Dawn – Part 2' apparently has a (slight) twist ending. Good for the creative team for feeling free to put their own stamp on the story.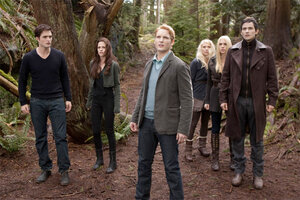 Andrew Cooper/Summit Entertainment/AP
(Warning: Spoilers for part of "The Twilight Saga: Breaking Dawn – Part 2" ahead.)
After stars Kristen Stewart, Robert Pattinson, and Taylor Lautner took part in various interviews as part of a "Breaking Dawn" media blitz, the Internet started buzzing about hints the actors had dropped about a twist in the last movie of the "Twilight" series. A twist? There was no twist in the books. Would something be different? Would the ending be changed? Would protagonist Bella Swan (Stewart) end up with someone besides her vampire husband Edward (Pattinson)? What did it mean?
And now the movie, "The Twilight Saga: Breaking Dawn – Part 2" (ask film critics how happy they are not to have to type that out anymore) has been released, and it was discovered that, while there was a twist, it didn't affect the outcome of the story as a whole, though it did get the audience on the edge of their seats.
You see, to make a very long story short, the end of "Dawn" has Bella, Edward, and their vampire family facing off against evil vampires. At one point, it looks like a fight begins and Edward's foster father, one of his foster brothers, and the leader of the evil vampires, among others, bite the dust (no pun intended) in the attack. Then it turns out that this was all a vision, a hypothetical situation, if you will. One of the good vampires, who can see the future, has shown the vision to the leader of the evil vampires to show him what the cost of the two sides fighting would be. This helps convince the head evil vampire (Michael Sheen, who by all accounts goes gloriously crazy as bad vampire Aro in this movie) to call off the battle.
---