Damon joining Clooney in 'The Monuments Men'?
(Read article summary)
Damon joining Clooney? Matt Damon is in talks to join Clooney in Clooney's project 'The Monuments Men,' which follows a group of art historians and museum curators who try to recover art stolen by the Third Reich during World War II.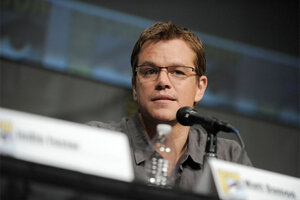 Jordan Strauss/Invision/AP
George Clooney is co-writing, directing and starring in an adaptation of Robert M. Edsel's non-fiction WWII book The Monuments Men, which reunites the Oscar-nominated Hollywood power-player/humanitarian with a number of old friends and familiar faces – including Matt Damon, who is in talks to reunite with Clooney after appearing alongside him in the Ocean's Eleven trilogy and Syriana.
Damon is also working the press circuit for Good Will Hunting and Milk director Gus Van Sant's upcoming Oscar-bait release Promised Land, which he co-wrote (and co-headlines) with The Office's John Krasinski. Naturally, journalists are once again hounding Damon for details about his possible return in Bourne 5; however, he's yet to waver from his previous non-committal stance.
---