'The Walking Dead': Where did the midseason finale leave the survivors?
(Read article summary)
'The Walking Dead' bid farewell to viewers until February, and a few cliffhangers will keep fans in suspense until the show's return.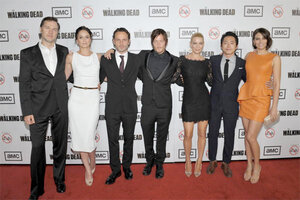 John Shearer/AMC/AP
When The Walking Dead first introduces the audience to Tyreese (Chad Coleman), we see a man who is forced to make a very difficult decision in a split second. Faced with the prospect of a group member who has been bitten, Tyreese chooses to keep her among the living, so that when the time comes, his people will be safe, and her loved ones are better prepared to deal with the woman's impending, horrific and inevitable transformation.
It's a decision that's been made on this program many times before, but one that hasn't been seen so much during the first half of season 3. It's a difficult decision because it prolongs the suffering of the afflicted, but still manages to show compassion in a world seemingly devoid of the stuff. It is a decision that would have been made by the Rick Grimes (Andrew Lincoln) of old.
And with that, a whole new group of characters are introduced to The Walking Dead just before it shuffles off for a brief hiatus. This could be troublesome for the series; more people means more opinions, which means more arguing – something that's previously ground the plot to halt. But thankfully, 'Made to Suffer' isn't looking to put the audience through that again. This is a tight, well-paced episode that manages to keep the primary focus of the season in its sights for the duration of the hour.
The group in question is small and capable, but clearly running on fumes by the time they reach the prison – entering what they believe to be something of a safe haven. By the time Carl (Chandler Riggs) stumbles upon the group battling a group of walkers, they look as if they might be overrun. It's another split-second decision, but this time Carl, who has seen his father take a completely different route when it comes to strangers in his territory, is the one to make it.
---