'Star Trek Into Darkness': What does the first real trailer reveal? (+video)
(Read article summary)
'Star Trek Into Darkness' got its first real trailer, which offers hints about the plot of the film and the role that Benedict Cumberbatch's villain will play.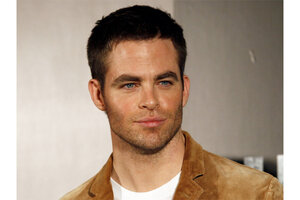 Koji Sasahara/AP
When Star Trek: Enterprise was pulled off the air in 2005, it marked a sad conclusion to 18 consecutive years of the franchise being on TV in one form or another. It didn't take long though, for Paramount to greenlight a new film, one that could take up the space sci-fi mantle in the absence of Star Wars.
It's been three and a half years since J.J. Abrams' Star Trek (inspired by Star Wars) hit theaters and successfully revitalized the brand, bringing back the original crew led by Captain James T. Kirk, and we finally have our first real look at their next adventure in Star Trek Into Darkness… and it's an epic one.
While story details have remained under the tightest of security compared to most film productions, we do know thanks to the official Star Trek Into Darkness plot synopsis that the crew of the Enterprise will be pitted against Benedict Cumberbatch's "one man weapon of mass destruction" after Starfleet suffers a major blow. Kirk will have to earn his Captain's chair as he balances his emotions with duty.
---