'Les Miserables,' 'The Hobbit,' and 7 of the most exciting movies of December
(Read article summary)
'Les Miserables' and 'The Hobbit' make the cut for some of the most anticipated films of this month.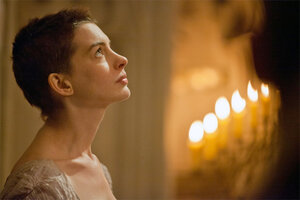 Laurie Sparham/Universal Pictures/AP
December is typically the time of the year that builds to a strong end - and in 2012, the latter part of the month will hit moviegoers with a wide array of films. While the obvious choice for most anticipated of the month goes to The Hobbit: An Unexpected Journey, there are still several new films worth checking out before we turn the calendar to 2013 - including the highly-anticipated next features from two critically acclaimed directors.
And, of course, there are a few hit or miss titles, many of them comedies, that could make a sizeable splash thanks to this very family-friendly movie going season.
Here are the 7 films we are looking forward to in the month of December.
'The Hobbit: An Unexpected Journey'
It's been a long time coming for the feature-film adaptation of The Hobbit, but it's finally in capable hands and set to debut in just a few short weeks. By no means do we intend to discredit Guillermo Del Toro's work on the project, or his selection as the film's first director, but we really can't imagine anyone but Peter Jackson directing The Hobbit.
And now that we know An Unexpected Journey is just one in a planned three-part film series there's the sense that Jackson is ready to deliver yet another epic tale. It could be argued that The Hobbit, unlike Lord of the Rings, could be succinctly summed up in one, maybe two films, but that's just not Jackson's style. Hopefully this second trip to Middle-earth is just as enchanting as the first.
---