TV's best holiday episodes – from Festivus to Holiday Armadillos
(Read article summary)
TV has been host to various memorable holiday episodes, from the 'Community' gang becoming Rankin/Bass-like characters to the 'West Wing' staffers experiencing a sobering winter season. Here are a few of the best.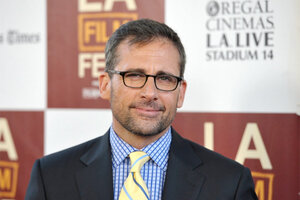 John Shearer/Invision/AP
While you're celebrating your holiday season, your favorite fictional characters on the small screen are usually doing the same, with the weeks before the major winter holidays flooded with episodes in which TV protagonists experience humorous or poignant – or both – events during the special time of year.
Some fade from the mind pretty quickly, but others become classics. Here are a few of the best holiday episodes that have aired on TV, and let us know if you have another favorite.
--"Dear Dad," 1972, "M*A*S*H"
In "Dad," Army doctor Hawkeye Pierce is penning a letter to his father at home during the holiday season and attempts to describe events that are happening at camp, such as a corporal, Radar, trying to send a Jeep home by mailing each piece separately. Hawkeye dresses up as Santa Claus to entertain the children in the area, but when a call comes in, he's forced to go tend to patients while still wearing the outfit.
--"The Strike," 1997, "Seinfeld"
---