Michael Moore, Heidi Ewing, Rachel Grady and others turn out for Cinema Eye Honors documentary awards
(Read article summary)
Heidi Ewing and Rachel Grady were two of the winners for nonfiction filmmaking at the Cinema Eye Honors awards ceremony.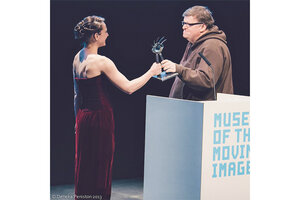 Deneka Peniston
On the eve of Academy Awards announcements, the documentary community was out in full force celebrating its own at the 6th Annual Cinema Eye Honors for Nonfiction Filmmaking at the Museum of the Moving Image in Astoria, Queens. And what a community it was! From notable presenters such as Michael Moore, to delighted winners like Heidi Ewing and Rachel Grady (Detropia), the word "supportive" was thrown around with gusto throughout the evening.
This spirit of community was embodied by Esther Robinson, the evening's charming hostess and Cinema Eye co-chair. Not only did Robinson show off a photo of her newly adopted baby to the entire assemblage (would that ever happen at the Oscars?), but she also gave quite a pep talk to the crowd, which included many notable filmmakers. "Everyone in this room is doing something spectacular," Robinson remarked, "We get up every day and we make something from nothing. It has meaning, it's important, and it changes the world."
The love and encouragement continued, pouring out of the mouths of up-and-comers and veterans alike. New filmmaker Jason Tippet accepted his award for Only the Young by expressing that, "It feels nice to be accepted into a community like this, and meet people whose films you're obsessed with." Tippet was honored with co-director Elizabeth Mims for Outstanding Achievement in a Debut Feature Film.
---