Arnold Schwarzenegger's 'The Last Stand' is formulaic but a fun action film
(Read article summary)
'The Last Stand' has plenty of plot holes but is a great throwback to the days of Schwarzenegger's earlier films.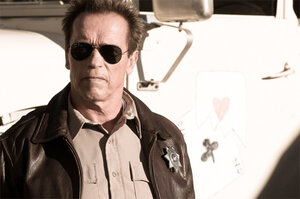 Merrick Morton/Lionsgate/AP
After nearly a decade since he headlined Terminator 3: Rise of the Machines, Arnold Schwarzenegger is back with a starring role in The Last Stand. During his time as California governor, the actor enjoyed only a brief cameo appearance in The Expendables – a role that was later expanded in its sequel, The Expendables 2.
Korean director Kim Ji-woon was tasked with reintroducing the iconic action star (now ten years older) to the leading man spotlight. An especially fitting challenge, given that the primary character in his new film left Los Angeles to live his peaceful golden years in small town New Mexico. Does The Last Stand prove that Schwarzenegger still has what it takes to be a worthwhile Hollywood leading man that can kick butt and spout memorable one-liners?
While some movie fans might have written-off The Last Stand after seeing a generic middle-of-the-road trailer, the final film provides plenty of crowd-pleasing scenes, exciting set-pieces, and an extremely enjoyable performance from Schwarzenegger. In fact, not only does the aging actor hold is own when going toe-to-toe with bad guys, he also wholly embraces his Hollywood persona, which will further endear viewers to the quirks of his character. Out of context, the gags could be mistaken for a film that tries too hard, but scene-to-scene, even the campiest moments are worthy of a solid laugh. Nitpickers will have an easy time challenging plot holes and logistics, but The Last Stand is unrepentant in its action-western ambition – and delivers where it really counts.
---