'The Americans': Was the series premiere worth watching?
(Read article summary)
'The Americans' follows two KGB agents posing as a married couple in suburban America in the 1980s. 'The Americans' stars Keri Russell and Matthew Rhys.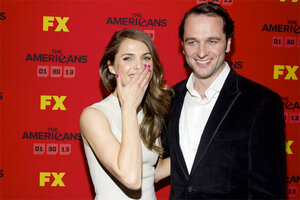 Charles Sykes/Invision/AP
There was an excellent scene in season 2 of Homeland where the characters played by Mandy Patinkin and F. Murray Abraham reminisced briefly about what the intelligence game was like during the Cold War. There was a wistful glint in their eyes as they almost fondly remembered their adversaries and the art of brinkmanship that both the United States and the Soviets engaged in time and again.
In essence, the pair romanticized a period filled with a different kind of paranoia and anxiety than exists today. In FX's newest drama The Americans, the basic premise takes the audience back to the Cold War with a storyline focusing on two KGB spies who are posing as an average American married couple with kids in early-1980s Washington, D.C. And although this particular milieu is dripping with the same kind of us versus them gamesmanship that Patinkin and Abraham's characters were remembering, this superlative and exciting pilot is far from a simple trip down memory lane.
Like any good pilot, the episode diligently sets up the series' framework – which is comprised of several elements that make cable television so popular and successful right now. First and foremost, The Americans has the benefit of being a period drama (still a plus by most networks' standards), but this series, unlike many period drams, is driven by more than simply having the right attire and casually making mention of events happening at the time. Instead, with Keri Russell and Matthew Rhys playing Elizabeth and Phillip Jennings, respectively, the plot deftly splits its time between the couple's increasingly dangerous spy games and their otherwise prosaic existence as a family in the suburbs.
---