'Warm Bodies': Is it a funny zombie send-up or a comedy that never comes to life?
(Read article summary)
'Warm Bodies' follows a zombie and the living girl with whom he falls in love. 'Warm Bodies' stars Nicholas Hoult and Teresa Palmer.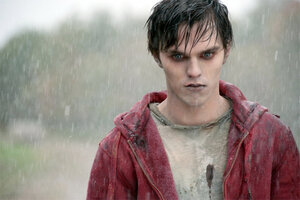 Jonathan Wenk/Summit Entertainment/AP
When it was first announced that 50/50 director Jonathan Levine would helm an adaptation of the novel Warm Bodies many film-fans dismissed the project as Twilight with zombies. Still, anyone familiar with Isaac Marion's book of the same name knows that the Warm Bodies story and tone could make for a fun (albeit campy) film – playing on traditional "undead" tropes. Unlike similar offerings that are targeted at love-struck teenagers and twenty-somethings, this movie is well-aware of its goofiness and instead of melodramatic romance, Warm Bodies actually uses that absurdity to tackle a larger topic: the power of living.
Does Levine's focus, and lack of shirtless heartthrobs, land the film in an awkward middle ground? Where it's too-lighthearted to please zombie movie lovers and without enough romance to draw-in viewers hoping for the next great supernatural power couple?
Unfortunately, yes but in this case that's a good thing. Given Levine's resume (which also includes 2008 favorite, The Wackness), it shouldn't come as a surprise that Warm Bodies is actually a solid film – held back primarily by overarching consumer backlash against paranormal romance and zombies in Hollywood. On its own terms, Warm Bodies offers a funny and witty twist on living dead mythology without getting too bogged down in drawn-out, and self-indulgent, romance story lines. Some of the film's larger ideas rely heavily on character cliches and setups that don't have enough time to develop but Levine moves the proceedings at a steady pace and adds enough charming moments to keep the film alive (even if the romance is just undead).
---