'The Walking Dead': Did the midseason premiere bring back the show's momentum?
(Read article summary)
'The Walking Dead' returned for the rest of its third season last night after a midseason finale that seemed to bring the drama back to life. Did the new episode keep the characters moving forward?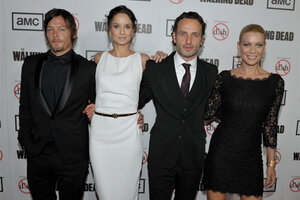 John Shearer/Invision for AMC/AP
When The Walking Dead finished off the first half of season 3 with 'Made to Suffer,' it wasn't the hasty infiltration and subsequent firefight between Rick's crew and the people of Woodbury that breathed new life into series, it was the introduction of another group of survivors.
So far, season 3 has been about the core survivors meeting new people. Some of these encounters have gone south pretty quickly, e.g., Thomas and the other inmates not named Oscar or Axel (Lew Temple) wound up dead and now the citizens of Woodbury, spurred on by the Governor (David Morrissey), are cheering the Dixon brothers in gladiatorial combat. In terms of overall friendliness, these instances don't rank too high, but there's hope in the form of the seemingly capable and mostly affable Tyreese (Chad Coleman) and his dwindling crew – not to mention the ever-scowling face of Michonne (Danai Gurira). All in all, the infusion of new blood had The Walking Dead ready to take on the rest of season 3 with some real gusto.
---