'Glee' wedding leaves fans shocked on Valentine's Day
(Read article summary)
A 'Glee' wedding had an unexpected ending on the Fox show's newest episode. The 'Glee' wedding was scheduled to take place between high school teacher Will, who heads up the Glee club, and guidance counselor Emma.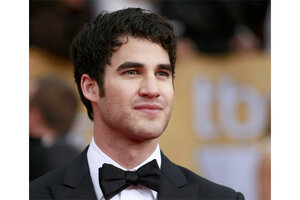 Adrees Latif/Reuters
(Watch out – spoilers follow...)
"Glee" fans were shocked on Valentine's Day by an episode in which a planned wedding between high school teachers Will and Emma didn't happen, but many other twists occurred.
The Feb. 14 episode was supposed to feature the wedding between glee club teacher Will and guidance counselor Emma, but Emma ended up fleeing the wedding beforehand. Meanwhile, former glee club member Rachel, who is now attending the fictional New York Academy of the Arts on the show, found out that she may be pregnant.
Emma was panicking before the wedding after having been kissed by Finn, her former student, who was filling in as glee teacher while her fiancé, Will, was away. The guidance counselor ended up leaving before the wedding, but Will decided to hold the event's reception anyway, which was attended by the former and current members of the glee club.
Cast members had teased that there would be several huge plot developments in the episode.
"I literally yelled at the script!" cast member Kevin McHale, who plays Glee club member Artie, told E!."I finished it and was like, 'Noooo! It's crazy."
---