Harrison Ford rumor: Has he signed on for 'Star Wars 7'?
(Read article summary)
Are the Harrison Ford rumors true -- that the actor has signed on for the new 'Star Wars' movie? The Harrison Ford rumor is so far unconfirmed.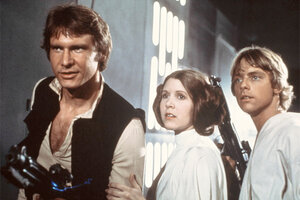 20th Century-Fox Film Corporation/AP
Star Wars fans had a lot of questions when it was first announced that Disney was set to purchase Lucasfilm – with the intention of producing an entirely new trilogy in a Galaxy Far, Far Away. However, one of the biggest questions surrounding the future of Star Wars is where the story would go in Episodes 7-9. Would the new films continue the narrative established in the original six installments and bring back fan-favorite actors (now 30 years older) to reprise their characters or would Lucasfilm clean the slate and center the trilogy around entirely new faces?
Now, we're getting unofficial word that Harrison Ford has signed-on to reprise his role as Han Solo in Star Wars: Episode 7 – lending credence to hopes that the film will directly continue storylines from the prior trilogy – while introducing new characters too. Of course, if the rumor turns out to be true, it would likely mean that other high-profile casting announcements are also in the pipeline.
Now that director J.J. Abrams is officially helming Episode 7, Star Wars-related rumors and reports are at an all-time high. Joining the chorus of unconfirmed reports on the production, Latino Review took to the Fox News Latino airwaves and announced that, according to their sources, Harrison Ford has officially signed-on for a "significant" appearance as Han Solo in Episode 7. Not entirely a big surprise, given that Ford has previously stated he'd be open to returning – if the story would allow for it. When pressed for further information, Latino Review admitted that there scoop was limited to the signing of Han Solo and anything beyond the casting itself would purely be speculation at this point. Latino Review has a relatively successful record with their scoops – so there's more than enough reason to believe that there's at least some truth to the report.
---