'Beautiful Creatures' and other young adult adaptations will fill 'Twilight' void – for better or for worse
(Read article summary)
Every adaptation of a supernatural young adult book like 'Beautiful Creatures' is inviting 'Twilight' comparisons after the massive success of the vampire series. Here are a few coming up for 2013.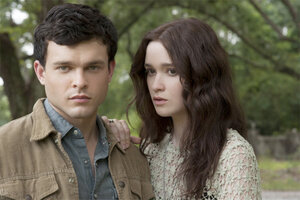 John Bramley/Warner Bros. Pictures/AP
With the release of "The Twilight Saga: Breaking Dawn – Part 2" (did you forget how long that title was?) last November, the Twilight movie series, adapted from the books by Stephenie Meyer, officially came to a close.
We assume, that is. Brooding vampires could be coming back to a cinema near you if Meyer writes more stories or a movie-only narrative is cooked up.
But movie executives noticed the overwhelmingly successful box office grosses reaped by the story of ordinary girl Bella Swan and the melancholy vampire she loves, and those craving a young adult series fix over the next year won't be disappointed. For better or for worse, every movie adaptation based on a young adult novel with similar themes will be compared to "Twilight" – whether they'll be able to come out from that shadow remains to be seen.
One out now, the movie "Beautiful Creatures," adapted from the 2009 book by Kami Garcia and Margaret Stohl, follows a boy, Ethan, who falls in love with a teenage girl named Lena who belongs to a family of witches. Lena is approaching her sixteenth birthday, on which she will be "claimed" by either the forces of good or evil. The book is the first in a series.
"Creatures" director LaGravanese told Newsday that the two stars of the film initially passed on the movie because they didn't want to invite "Twilight" comparisons, an apprehension he also shared.
---