Was Khloe Kardashian fired from 'The X Factor'?
(Read article summary)
Reports say Khloe Kardashian was fired from the reality singing competition, but Fox representatives say no decision has been made yet. If Khloe Kardashian was fired, it will be only the latest personnel shake-up on the reality competition.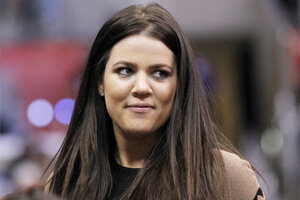 Danny Moloshok/Reuters
Has reality TV star Khloe Kardashian been asked to leave "The X Factor"?
Kardashian joined the show as a co-host with entertainment personality Mario Lopez partway through the second season of the show, in October 2012. Before Lopez and Kardashian took on hosting duties, Pussycat Dolls lead singer Nicole Scherzinger and UK TV presenter Steve Jones served in the positions. (Scherzinger later became a judge when former judge Cheryl Cole left and the show needed a replacement.)
The New York Post reported that Kardashian isn't being asked back for season three, quoting an anonymous source.
"They are asking Mario [Lopez] to come back, but not Khloe," a person named as an "insider" told the Post.
But a spokesperson for the reality competition told the Post that nothing was decided yet.
"The producers have not yet made the talent decisions for this year," the representative said.
Kardashian first became well-known on the reality program "Keeping Up with the Kardashians," which first aired in 2007 on the E! cable network. The show led to other spin-offs, including one that focused on Khloe Kardashian and her husband, Los Angeles Clippers player Lamar Odom, titled "Khloe & Lamar." Kardashian has also worked as a fashion designer and has written a novel as well as a book about her life with her sisters Kim and Kourtney.
---