Seth MacFarlane: The reviews of his performance and the moments we actually liked
(Read article summary)
Seth MacFarlane served as Oscar host for the first time for the 2013 ceremony. Reviews were decidedly mixed, but some of the moments from Seth MacFarlane were actually enjoyable.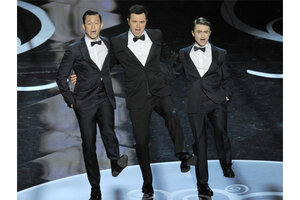 Chris Pizzello/Invision/AP
Oscars host Seth MacFarlane drew mixed to downright negative reviews for his first time in the gig, with many finding most of his jokes offensive.
"The oddness of the hire — middlebrow frat-boy hero emcees Hollywood's glitziest night — was only heightened by MacFarlane's unpleasant demeanor," The Atlantic writer Richard Lawson wrote of MacFarlane's performance.
USA Today writer Richard Blanco agreed.
"One longed for [MacFarlane] to drop the meta-jokes about the fear that he'd be an inappropriate host and get on with the job of actually hosting, which means keeping the train running, making your guests comfortable, and making the evening more about them than you," he wrote. "Awash in self-indulgence, neither he nor his 3-hour-and-35-minute show ever seemed to hit a comfortable, confident stride."
Even the more positive reviews rated his performance a mixed bag, with Huffington Post writer Michael Russnow writing that "when he played it straight, he was great – poised, handsome and charming. But on occasion he spewed classless material, which I'm sure he thought was very funny."
---