'The Walking Dead' recap: The newest episode examines Rick's past and features an unexpected return
(Read article summary)
'The Walking Dead' delves into Rick's past as a conflict against the Governor and Woodbury approaches.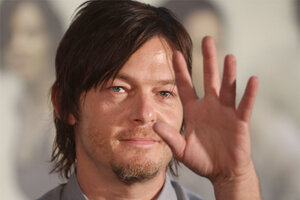 Chiang Ying-ying/Reuters
With all the time The Walking Dead has spent milling around the prison, or in the streets of Woodbury, it's nice to see the series get out of those settings and away from the immediacy of the various conflicts (life threatening and otherwise), and really concentrate on telling a story that is temporarily removed from the main thrust of the season, but still remains deeply rooted in the story at hand.
To that end, 'Clear' winds up being a good episode that gives Rick, Carl and Michonne a chance to move around and exist (however briefly) in an adventure that seems to really show them off as more complicated characters.
From the opening scene on, there's the feeling that the supply run will offer more than the chance to simply grab a few extra guns, supplies and rounds of ammunition. It seems everywhere they look, there is some sort of sign that shows just how desperately some past survivors attempted to get information out to one another, to tell their loved ones (or anyone, really) which direction they were headed. But there's nothing to indicate any of these messages did any good – only a brief confirmation that an intended recipient had turned into a zombie.
The closer they get to their destination, the communication becomes more focused, but less optimistic; the words are harsh and sharp, warning of the unfortunate things that will befall those who continue down the path. The messages suggest it's best for those reading to just turn around and go back to where they came. And that's just what Rick's plan is: to go back to where he started, and to loot his old armory so that his people can better defend themselves against the pending conflict against the Governor and Woodbury.
---