Patrick Stewart wedding: Ian McKellan says he'll perform the ceremony
(Read article summary)
Patrick Stewart wedding: Former 'X-Men' co-star Ian McKellan says he's planning to marry the couple. According to McKellan, the Patrick Stewart wedding could take place in Massachusetts or another area in America that lets a friend or family member officiate.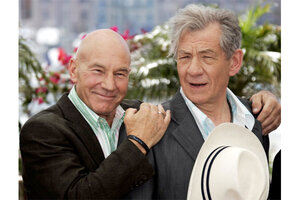 Jeff Christensen/AP
"The Hobbit" actor Ian McKellan recently announced that he will be officiating at the wedding of his "X-Men" co-star Patrick Stewart.
McKellan discussed the plan while appearing on the British TV show "The Jonathan Ross Program" over the weekend.
"I'm going to marry Patrick," the actor said at first, then added, "I am going to officiate at his wedding."
Stewart is engaged to jazz singer Sunny Ozell.
Ross asked McKellan how he has the qualifications to perform the ceremony, and the "Hobbit" star said he wasn't sure of the exact details.
"I don't know," he said. "But in Massachusetts, in the middle of America somewhere, you get a friend along, and I read out the words, and Sunny and Patrick will then be married."
McKellan said he'd married a couple before.
"I've done it once before with two guys having a civil partnership," the actor said. "I was crying my eyes out."
When asked about his sartorial plans for Stewart's wedding, McKellan said merely, "You mustn't upstage the bride."
While it's unknown whether the actor's comments mean that Stewart's wedding will be taking place in Massachusetts, the state does have a policy that, if a person provides a character reference and $25, they are allowed to perform a wedding ceremony for a family member or friend. Hopeful officiants apply to do s and hear back from the state in four to six weeks.
---