Jon Hamm and 'Mad Men' will return to AMC for two more seasons
(Read article summary)
Jon Hamm's Emmy-winning drama 'Mad Men' will return April 7 for its sixth season, the show's second-to-last, according to creator Matthew Weiner. Jon Hamm stars on 'Mad Men' as ad company founder Don Draper.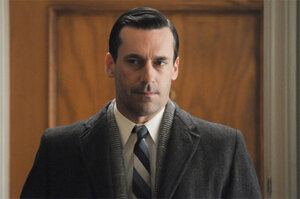 Michael Yarish/AMC/AP
Mad Men Season 5 proved to be the most polarizing in the show's history to date (it even failed to snag a Golden Globe nod for Best TV Drama), but its themes of social, political and cultural upheaval – coupled with the emergence of modern domestic dissatisfaction – resonated with even the more critical viewers and fans.
Thus, anticipation remains high for the return of the Sterling Cooper Draper Pryce staff, following the S5 finale – and its ominous conclusion - but proceeding what has been acknowledged as the penultimate season, before we learn Don Draper's (Jon Hamm) ultimate fate in the seventh season.
AMC has announced that Mad Men S6 will premiere this year on Sunday, April 7th at 9:00 p.m. ET/PT, beginning (like S5) with a two-hour episode – written by head showrunner and creator Matthew Weiner – before it returns to the regular 10 p.m. ET/PT time slot on the 14th, with an episode that Hamm is directing.
Here are statements from the official press release:
"To be able to continue exploring the stories of these characters for a sixth season is an amazing opportunity," said Weiner. "We love mining this world andlook forward to bringing the audience stories that we hope will continue to both surprise and entertain them."
"It is a calling card and a point of great pride for AMC to be the network home of'Mad Men,' led by Matthew Weiner and his brilliant team," said Charlie Collier, President and General Manager, AMC. "We can't wait to share season six with the world and what better way to start than with a special two-hour premiere?"
"The success of 'Mad Men' is built on the exceptional artistry and imagination of Matthew Weiner, the cast, and the entire writing and producing team," saidKevin Beggs, President, Lionsgate Television Group. "They continually strive to raise the bar and we look forward to bringing viewers another great season."
---