James Franco: What hasn't he done?
(Read article summary)
James Franco is starring in two popular movies currently in theaters ('Oz the Great and Powerful' and 'Spring Breakers'), but those achievements are just the latest on a very long résumé. How many items would Franco have checked off if he had a bucket list?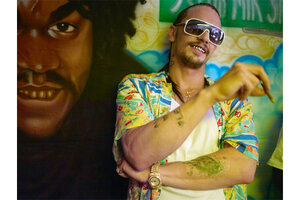 Michael Muller/A24 Films/AP
Whether you love him or hate him, you have to admit that actor James Franco has gotten involved with ... well, pretty much everything. As Joshua Mohr wrote in a New York Times article in 2010, Franco's "ambition over the past few years has manifested almost as performance art."
This past weekend, the movie "Spring Breakers," starring Franco and Disney stars like Selena Gomez and Vanessa Hudgens, made its debut in theaters nationwide. The movie, along with the Disney film "Oz the Great and Powerful," which was released earlier this month, has thrust Franco back into the limelight again, as Hollywood's Renaissance man. Check out this rendition of what might be on Franco's bucket list if he created one – and how much he's already completed.
– Get a degree
For Franco, this actually means get multiple degrees from multiple universities all at the same time, from Yale University to Columbia University. In 2012, a former professor of his alleged that he was fired from New York University because he gave the actor a D grade, according to Time magazine. In 2009, Franco was caught on camera sleeping in a Columbia class. His response? According to Gawker, he said, "It was this extra thing, it was 10 at night, it wasn't a class."
– Use degree(s) to teach college-level courses
Perhaps Franco really believes in the saying "knowledge is power" because he decided to not only obtain these degrees but also use the degrees to teach. A University of California, Los Angeles, student who recently took Franco's screenplay/creative writing workshop told LA Weekly that Franco "definitely cares a lot about teaching and it's not just something he's just doing." The student also said Franco holds office hours and "gives five or 10 minutes of feedback every week" to each student.
---