'Finding Dory': The 'Finding Nemo' sequel is coming in 2015
(Read article summary)
'Finding Dory,' a 'Finding Nemo' sequel, will follow Dory and other 'Nemo' characters about a year after the original film. 'Finding Dory' will be released in November 2015.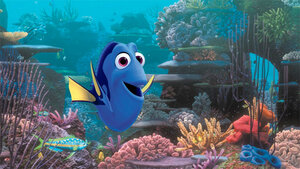 Disney Pixar/AP
We heard that Oscar-winning animation filmmaker Andrew Stanton is directing a Finding Nemo sequel last year, not so long after his expensive live-action debut John Carter proved to be a disappointment at the box office. It didn't take long for Ellen DeGeneres to enter negotiations to reprise her beloved voice role as the memory-impaired blue tang fish Dory from the first movie.
A few months later, Disney/Pixar introduced DeGeneres' character to the current kiddie generation – who were either not alive or too young to remember the year 2003 - by giving Finding Nemo a 3D theatrical re-rerelease. That decision was rewarding on two levels, in terms of immediate profits AND early marketing for the sequel, which has now been officially titled… Finding Dory.
Here is an excerpt from the press release, with Stanton and DeGeneres discussing the story and themes for Finding Dory:
---