David Bowie: As a new album arrives, a celebration of the 40th anniversary of 'Aladdin Sane'
(Read article summary)
David Bowie's album 'Aladdin Sane' came out 40 years ago today. Here's a look back on the work that more than holds up today, including the behind-the-scenes story from Bowie's pianist Mike Garson.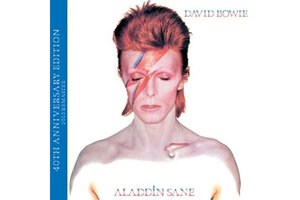 He insisted the future would be a bleak, blasted landscape, populated by panicky, gun-toting radicals and people whose only fleshly pleasures are as mechanical as an animated film about robots. Even our most promising rockers would be dead by one misadventure or another. But before this even happened, there would be a Third World War, one that would finish us off before this ugly, Orwellian existence could even begin.
That's what he said. That's what David Bowie said on his 1973 album, "Aladdin Sane." So how did he make The Apocalypse sound so groovy that we couldn't wait for the world to end? Mostly it was the music, which was arguably, the most lyrical, indelibly melodic, and rockin' stuff the man with the orange shag and unmatched eyes had yet made. In any case, on the occasion of "The Next Day," Bowie's first new album in a decade, it's time to celebrate the old. "Aladdin Sane" turns 40 in April and it still stimulates with an undimmed intensity.
When it was first released, the stakes were high. With his previous record, which introduced hubristic rocker, Ziggy Stardust, Bowie had finally broken through. After years of folky tunes and false starts, he found false eyelashes and blush worked better. In his glittering jumpsuit and stacked heels, Bowie's identity may been ambiguous. As for those high stakes? Well, this is the guy who began "The Rise and Fall of Ziggy Stardust and the Spiders from Mars" with a dicey proposition: that the world would end in five years. It was now a year later. What, we space cadets wondered, would he do for an encore?
---