'Game of Thrones' recap: What characters got their revenge?
(Read article summary)
The newest episode of 'Game of Thrones' featured many characters, including Emilia Clarke's Daenerys, making some surprising choices.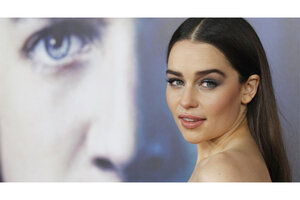 Mario Anzuoni/Reuters
Revenge may be a dish best served cold, but when it comes to Lord Varys, it's best served basting in its own retched filth inside a shipping crate that takes about as much effort to open as today's infernal clamshell packaging.
But like the digressive storylines and carefully plotted machinations of Game of Thrones, a significant portion of Varys' pleasure stems from the patience, scheming and countless other dealings required to see his design come to fruition. There's been a great deal of maneuvering early on in season 3, but now it seems ready for some kind of pay off. And in a series where there are precious few payoffs each season ('Blackwater' potentially being the biggest of the series so far), the patience of the audience is a must, so even a hint of larger developments can justify an initially slow pace.
'And Now His Watch Is Ended' is still mostly about maneuverings – Tyrion wants information on his sister's alleged involvement in the attempt on his life, so he goes to the one man who apparently knows everything and understands what it is to live as an outcast with a taste for revenge – but they feel like maneuverings that will amount to something far more personal than who is winning what unseen battle between the Lannisters and the King of the North. Frankly, Tyrion could not have chosen a better moment to have his discussion with Varys, as seeing the Spider unveil the sorcerer who "cut" him was as much a testament to the virtue of patience as it was to the power of retribution.
---