Mindy Kaling: One Monitor writer details why she'd like to be Kaling's best friend
(Read article summary)
Mindy Kaling is currently starring on the Fox comedy she also created, writes for, and executive-produces, 'The Mindy Project.'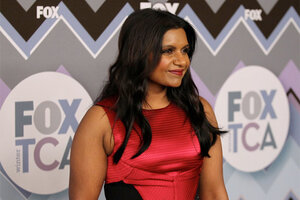 Matt Sayles/Invision/AP
This month, TIME magazine honored actress and writer Mindy Kaling as one of the 100 most influential people in the world in 2013.
Ed Helms, an actor, comedian and friend of Kaling, wrote in the piece:
"Mindy Kaling embodies the trifecta of being brilliant, wonderful and hilarious. Because that is statistically impossible, it can mean only one thing: she was created by an evil scientist to lull us into a giddy stupor in order to control our minds. How else can you explain someone who simultaneously commands respect and affection? Someone so acutely adept at creating her own opportunities?"
Ed Helms, I completely agree. This is why I devised a list of why Mindy and I should be friends.
1. I share Mindy's fear of missing out that she talks about in her book "Is Everyone Hanging Out Without Me? (And Other Concerns)." To prevent both of us from ever having this fear again, we could just hang out all the time without worry of other people hanging out without us.
2. We could (pretend to) go to the gym together. In her book, Mindy writes: "If it weren't for my imagination, I would weigh ten thousand pounds. This is because the only way I am able to exercise anymore is through a long and vivid revenge fantasy." Some people spend a lot of time at the gym, and that's fine, but why not just pretend you went sometimes?
---