Jon Stewart replacement John Oliver will (temporarily) host 'The Daily Show' this summer
(Read article summary)
While the 'Daily Show' host is filming the movie 'Rosewater,' Jon Stewart's replacement John Oliver will take over the show for the summer. Jon Stewart's replacement John Oliver has served as a presenter and writer on the show since 2006.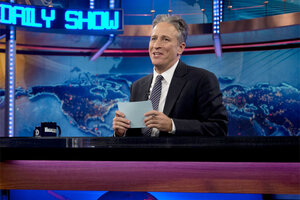 Carolyn Kaster/AP
Few remember (or, at least, acknowledge) that The Daily Show existed for some years before Jon Stewart took over hosting duties from Craig Kilborn in 1999. Under Stewart's leadership, the late-night comedy news program grew into a genuine cultural institution.
After nearly a decade-and-a-half of hosting The Daily Show, Stewart will be stepping down – at least, for a little while. It looks as if the comedian will be taking a three-month break from hosting the show in order to pursue a rather different stage in his career.
The Hollywood Reporter has announced that Jon Stewart plans to take a hiatus from hosting The Daily Show over the summer of 2013. He will use this time to direct his first feature film, titled Rosewater.
In Stewart's place, Daily Show correspondent John Oliver will be sitting in the show's hosting chair. Both a writer and presenter for The Daily Show since 2006, Oliver has proven himself a wry and clever comedian. Oliver's promotion could hint at changes to come – after all, big comic names such as Steve Carell (Seeking a Friend for the End of the World), Ed Helms (The Hangover Part III), and Stephen Colbert (Mr. Peabody & Sherman) all found initial fame via The Daily Show.
---