'How I Met Your Mother' recap: The season finale includes a big surprise for fans
(Read article summary)
'How I Met Your Mother' aired its season finale May 13 and provided the answer to the longest mystery on the show. 'How I Met Your Mother' is a CBS comedy.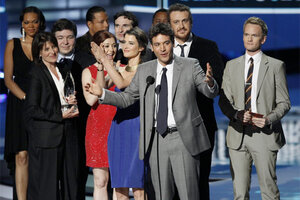 Mario Anzuoni/Reuters
It may have been a long time coming, but the How I Met Your Mother season 8 finale accomplished the inevitable: it revealed the Mother!
Broadway actress Cristin Milioti, who famously played "Girl" in the stage adaptation of Once, will be filling the role of the series' title character (above). But her reveal came at the end of the episode. Before that, many important things happened to Ted, Marshall, Lilly, Robin and Barney. Well, mostly to Marshall.
How I Met Your Mother is always at its best when it makes an earnest effort to progress the life stories of its characters and, as expected, the season finale doesn't disappoint. Ted, who was briefly struggling with his feelings towards Robin, decided that selling his dream house and moving to Chicago would be his best option. After all, Lilly and Marshall are moving to Rome, and Robin – who he may or may not still have feelings for – is marrying Barney. Fortunately, there are a few twists to this finale tale that make sure everyone's favorite group remains intact.
---