Nicki Minaj: Is she leaving 'American Idol'?
(Read article summary)
Nicki Minaj leaving? Is this her first and last season on 'American Idol'? An 'insider' quoted in Us Weekly says Nicki Minaj will be moving on.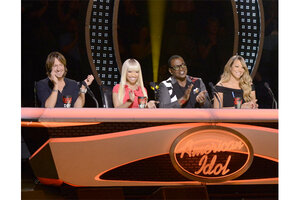 Michael Becker/Fox/AP
Will first-time judge Nicki Minaj return to "American Idol" after the current season?
No, according to an "insider" report by Us Weekly.
"It's safe to say she isn't coming back to Idol," the person identified as an "insider" said, according to Us Weekly. "She's okay with it. She had a great time but was only going to do one season anyway."
The report on Minaj comes after "Idol" host Ryan Seacrest asked her whether she'd be coming back next year during his radio show on May 9.
"That's a million-dollar question," she said. "I have to say this all the time, but I want people to know it's genuinely from my heart. I love the people on 'Idol.' I genuinely do. If I had to do this all over again, I would have done 'Idol.' Because it's fun, it's laughs."
---