Dead Sea Scrolls: The Boston exhibit lets visitors see one of the greatest treasures of the modern era
(Read article summary)
The Dead Sea Scrolls, some of which are currently on display at the Museum of Science in Boston, are the oldest copies of Biblical texts ever found.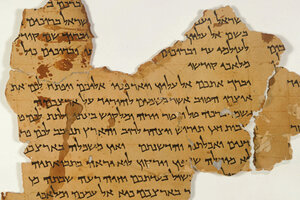 Courtesy of Israeli Antiquities Authority
A Bedouin goat herder was merely chasing after a stray when he stumbled into a cave and discovered one of the greatest treasure-finds of the modern era.
The ancient manuscripts inscribed in Hebrew dialects that he discovered rolled inside clay pots became known as the Dead Sea Scrolls, currently the oldest existing biblical manuscripts since they date from between 150 B.C. and 70 C.E. Now one of the largest public displays of the Dead Sea Scrolls ever is the centerpiece of an exhibit at Boston's Museum of Science titled "Dead Sea Scrolls: Life in Ancient Times."
"We are thrilled to bring this world treasure to Boston for the first time," said Paul Fontaine, Museum of Science vice president of education. "The artifacts and rare texts [in the exhibit] offer a tantalizing glimpse of daily life in ancient Israel, a vital cultural crossroad. The scrolls offer a once-in-a-lifetime opportunity to understand the attitudes and aspirations of a people who lived 2,000 years ago and help us all appreciate a culture that continues to influence our own."
The Dead Sea Scrolls contain biblical text found in the Hebrew Bible, or Old Testament, in addition to other books not included in the canon such as the Book of Enoch, the Book of Jubilees, and the Testament of Levi. Eleven caves eventually yielded 972 scrolls altogether in early 1947.
The Dead Sea Scrolls "provide a record of extraordinary human achievement," said Dr. Risa Levitt Kohn, professor of religious studies at San Diego State University. "They teach us about our past and ourselves."
The majority of the scrolls are nonreligious, Dr. Kohn said, and are comprised of commentary, legal documents, and references to the end times of the world. They reveal an ancient culture finding itself in the struggle between good and evil and provide "a spiritual map of ancient Israel," she said.
---