Alice Eve discusses 'Star Trek Into Darkness' and the role of Dr. Carol Marcus
(Read article summary)
Alice Eve, a newcomer to the 'Trek' films who stars in 'Star Trek Into Darkness,' talked about how she prepared for her role and how she tried to stay focused despite massive anticipation for the film from fans.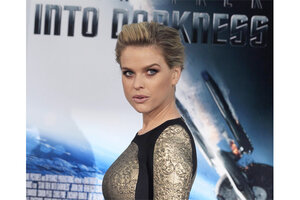 Fred Prouser/Reuters
After months of build-up and downright divisive pre-release speculation, Star Trek Into Darkness has arrived in US theaters. The film has received an overwhelmingly favorable response from critics (read our Star Trek Into Darkness review) and is poised to make big bucks at the summer box office – in spite of high-powered hold-overs like Iron Man 3 along with a surprisingly strong performance from The Great Gatsby.
Last week, we had a chance to chat with the film's stars, including Alice Eve who plays the much-talked about Dr. Carol Marcus to discuss the latest Star Trek film, her upcoming projects, and what it was like joining the iconic Star Trek movie crew. We've already posted our interview with Karl Urban (Dr. "Bones" McCoy) as well as Simon Pegg and John Cho (Lieutenant Commander Montgomery "Scotty" Scott and Lieutenant Hikaru Sulu, respectively). Make sure to check back in the coming days as we publish further interviews.
NOTE: The following is an abridged (and more concise) version of the interview with Alice Eve. You can read the entire transcript from our conversations with actress by clicking the link below:
Alice Eve (FYI: The unabridged version contains MAJOR SPOILERS for the film)
---