'This Is the End': Does the raunchy comedy's unusual premise pay off?
(Read article summary)
'This Is the End' stars comedy regulars Seth Rogen, Danny McBride, and others as... themselves. Does the conceit make for an entertaining film?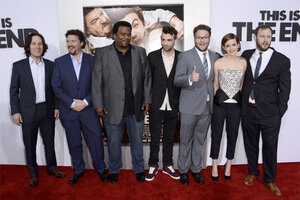 Dan Steinberg/Invision/AP
Not surprising: Seth Rogen, Jonah Hill, James Franco, Jay Baruchel, and other raunchy comedy standbys starring in a movie together.
The surprise comes when you run an eye down the cast list of the movie "This Is the End" and see the roles they're playing. Seth Rogen: playing Seth Rogen. Jonah Hill: Playing Jonah Hill. James Franco… well, you get the idea.
"This Is the End" follows a group of friends – the movie stars that you already know well from Judd Apatow-directed movies such as "Superbad" and "Knocked Up," as well as other films – as they suddenly find themselves in the midst of apocalyptic events. But, as noted above, all the movie stars are playing themselves, albeit fictionalized versions of themselves. Sort of.
Seth Rogen told the website Screen Rant that while the actors play themselves in exaggerated ways or do things they wouldn't do in real life, much of the dialogue was improvised by the actors, who have become very good at needling each other offscreen.
"It's so silly to have all these guys in a movie together and not let them riff off each other," Rogen said of letting the actors improvise. "You know, that was always our plan."
---