'Magna Carta Holy Grail': Jay-Z will release new album with Samsung on July 4
(Read article summary)
The rapper Jay-Z showed his versatility on Sunday night during the NBA Finals with a sleek commercial promoting his new album, 'Magna Carta Holy Grail.' The project will be released on July 4 in conjunction with electronics giant Samsung.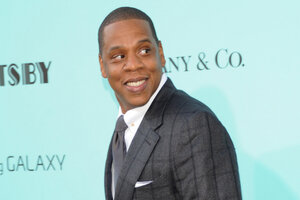 Evan Agostini/Invision/AP
Rapper. Club owner. Clothing line creator. Entrepreneur. These are some of the many hats worn by the rapper Jay-Z, who demonstrated his versatility yet again Sunday night when he announced the upcoming release of his new album "Magna Carta Holy Grail."
During ABC's television broadcast of the fifth game of the NBA Finals between the Miami Heat and the San Antonio Spurs, a three-minute commercial aired depicting Jay-Z working in a studio with superstar producers Timbaland, Rick Rubin, Swizz Beatz, and Pharrell Williams. The men discussed the music they were creating, nodding their heads to the beat and laughing as wisecracks were made. Jay-Z, born Shawn Corey Carter, described the new music as "lush" and full of live instrumentation.
"That's what hip-hop is," he said. "It's the emotion."
The commercial was produced by electronics giant Samsung, who reportedly signed Jay-Z to a $20 million deal in early June. The New York Post's Page Six quoted a source on June 4 who spoke of the artist's desire to create a "new music-streaming service to promote his acts and music on mobile devices." And that's exactly what the 43-year-old rapper has done.
---