'True Blood': Did season premiere solve show's problem of juggling too many storylines?
(Read article summary)
'True Blood' aired its sixth season premiere on June 16. 'True Blood' also stars Stephen Moyer and Alexander Skarsgard.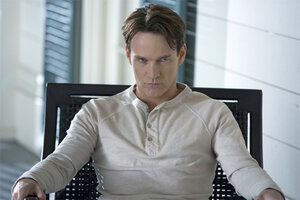 John P. Johnson/HBO/AP
The intent of this episode is to find who or what Bill (Stephen Moyer) is now but the actual story and its focus is, as one now expects from this series, unnecessarily complex and disorganized, so much so that the question it's looking to answer is once again muddied by the relentless, unforgiving nature of the numerous storylines that True Blood attempts (and mostly fails) to juggle simultaneously. But even though the mess of plots and subplots continuously to feel unnecessary, as if it's a weakness of the series, there's something about this amalgamation which tempts you to tune in, year after year, episode after episode – and season 6 is no different.
The premiere picks up where the True Blood season 5 finale left off, with Sookie (Anna Paquin) and company escaping from the Vampire Authority as Billith was born from blood. This, itself, is a bit of a conundrum for those tuning in, as you're required to piece together fragmented memories from over a year ago in order to understand what's going on. This has largely been the case since True Blood began, but since season 5 and season 6 storylines are essentially one, being able to remember everything from last season is now a bit of an unfortunate necessity. And though the series has been on the air for six years now, it seems as if you need to continuously remind yourself that this show is, for all intents and purposes, a vampiric soap opera, as season 1 was the only time the series could have been considered a streamlined drama.
---