'Independence Day' sequel: Would Will Smith return?
(Read article summary)
An 'Independence Day' sequel will reportedly take place 20 years after the first film. The film is scheduled to hit theaters in 2015.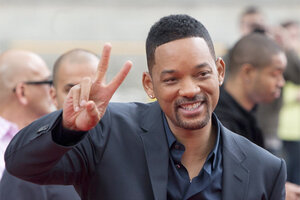 Misha Japaridze/AP
It's taken 17 years, but Fox has at last dated Independence Day 2 to hit theaters during (when else?) the Fourth of July holiday frame in 2015. The sequel will pick up in real-time, some twenty years after the first movie. However, co-writers Dean Devlin and Roland Emmerich (the latter is returning to direct) have revealed that ID4-2 takes place in an alternate present-day reality, where humanity has spent the last two decades harvesting the alien technology featured in the first movie.
Cast-wise, Independence Day 2 is expected to bring back characters from the first film – like former U.S. president Thomas J. Whitmore (Bill Pullman) and MIT graduate-turned cable repairman Dave Levinson (Jeff Goldblum) – but Captain Steven Hiller (Will Smith) won't be among them. Similarly, the cast will be half new characters, some of whom may become more prominently featured in a third installment (assuming the first sequel is a satisfactory box office hit).
Devlin and Emmerich had mapped out the ID4 sequel as a two-part narrative arch, under the working title ID Forever Part I & II. The latter has informed Collider that "I think [Fox] decided to only do one first" for the time being, and has set James Vanderbilt (the writer for Emmerich's White House Down) to polish off the script.
---